The best summer strains to have on-hand are those that are full of fruity flavors. The summer months are like a buffet for fruit-lovers, with a wide variety of tasty treats in season.
Treats that include fruity cannabis strains.
This list includes some of the best fruity strains to stock up on for having chill smoke seshes with friends, smoking by yourself, or just for gift-giving. Be sure to follow the link for your favorite summer strain, and save 10% by shopping online (discount applied at checkout).
Opting for fruity strains makes a huge difference in your grocery bill. Buying fruity strains virtually guarantees you get to enjoy the fruity flavors of summer at a lower price and, as a bonus, the strains are packed full of THC. These strains are great year-round, but summertime is the right time to truly savor the bounty of the season and enjoy these fruity summer strains. Berries, lemons, and oranges are all excellent choices.
If you're ever at a sesh and someone wants to know about fruity strains, you're going to be real glad you took the time to read this summer strains list. While you're at it, and the weather is still warm, also check out our selection of the most delicious cannabis sodas.
The Fruity Strains of Summer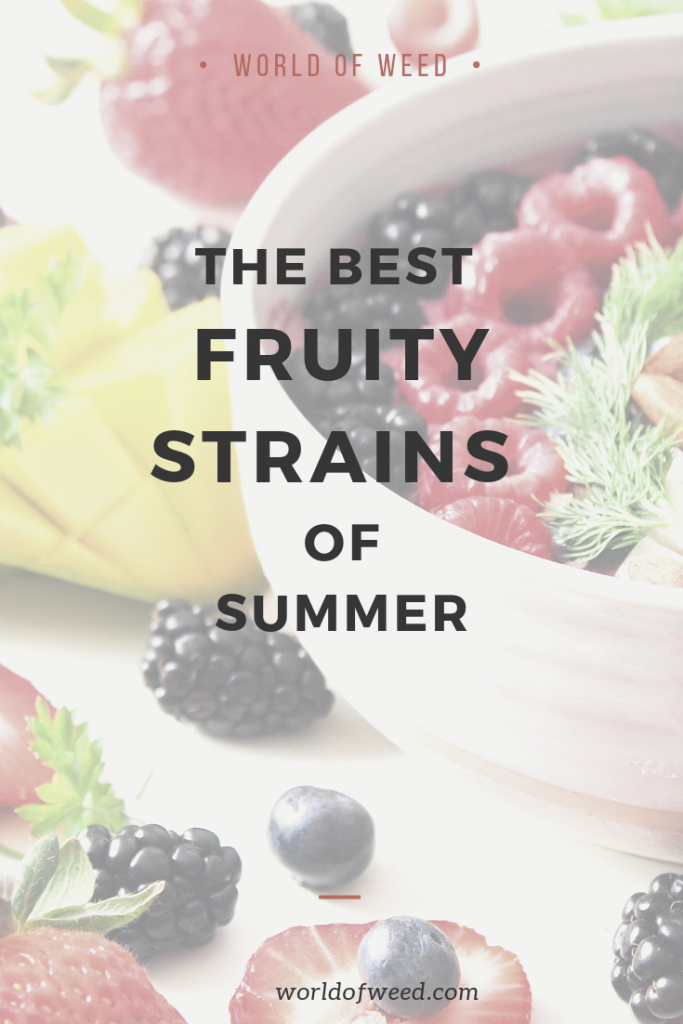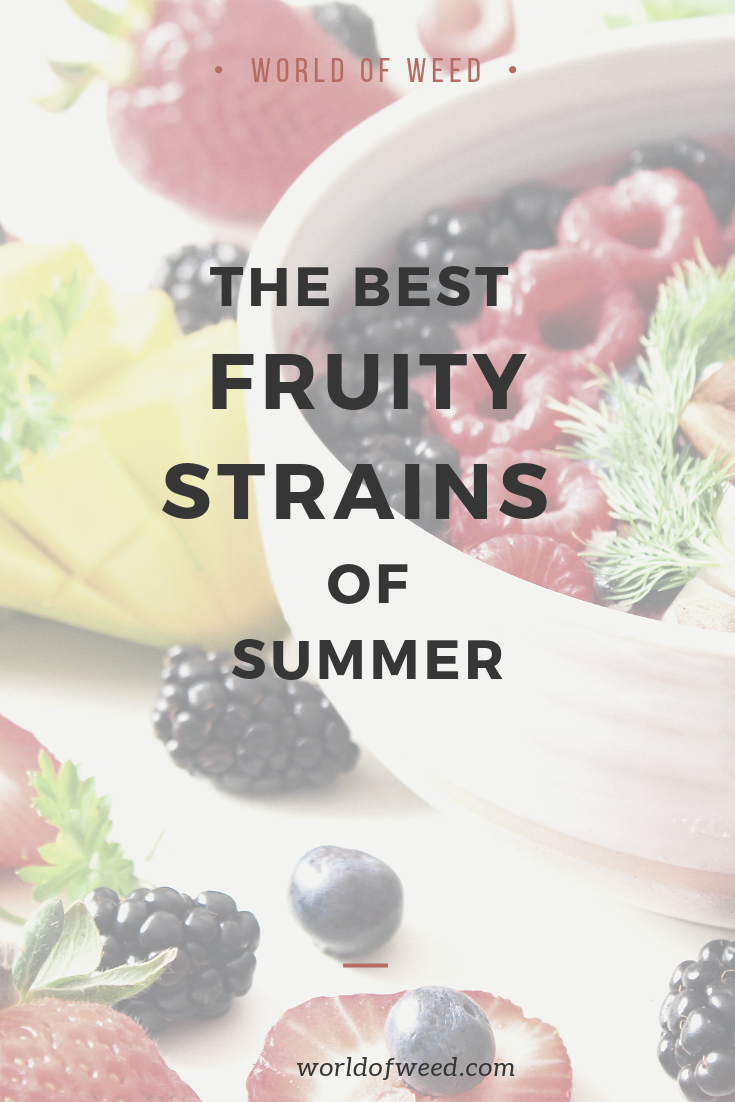 Blackberry Kush
Blackberry Kush by HempKings is a potent indica hybrid with dense buds covered in a thick dusting of trichomes, offset by vibrant red pistils. The buds are diverse, with their forest-green laced through with eggplant- purple, yellow, and black coloration.
HempKings' Blackberry Kush was born through the crossing of Blueberry x Highland Afghani, two potent strains that are as full of flavor as they are color. Take a hit of this Blackberry Kush, and you'll be instantly greeted by the sweet-tart aroma and flavors of blackberries, with candy undertones and strong notes of vanilla.
With a THC level of 21.01 – 25.01% and CBD level of 0.05-2.05%, this is a powerful strain that you're virtually guaranteed to love.
The indica genetics of the Blackberry Kush strain bring on some serious couchlock and a full-body sedation. Pair that with the uplifting cerebral effects and sativa buzz from its Blueberry genetics, and you get a relaxing, euphoric strain that washes all the tension and pain from your body. If you're looking for a strain to help you destress and forget about your worries, you need some Blackberry Kush.
Lemon Thai Kush
Powerhouse strains Thai and Hawaiian cross to create Freedom's Lemon Thai Kush, a sativa hybrid offering a THC level of 13.8 – 17.8% and a CBD level of 0.30 – 2.30%.
Lemon Thai Kush buds are on the longer side, and usually a lighter shade of olive, carrying an aroma that's both invigorating and heady. A strong scent of sour lemon with minty and cool earthy notes pairs with the tart lemon flavors of the strain, greeting your senses and embodying summer.
Known for its uplifting and energizing cerebral effects, Lemon Thai Kush tends to make users feel focused, full of energy, and super euphoric. The cerebral high brings on introspection, thoughtfulness, and creativity, offering you the chance to talk about things like aliens, time travel, and the meaning of life. Creative types are sure to love the effects of Lemon Thai Kush, with its imaginative effects.
Blueberry
The Blueberry strain is a hugely popular indica, created through a triple crossing between indica Afghani and sativas Thai and Purple Thai. Cultivated by Bota Buds, Blueberry holds the unmistakable aroma and flavor of sweet, fresh blueberries with subtle notes of earthy-vanilla. Blueberry has a THC content that ranges between 20% and 24%, with a CBD range of 0.10 -2.10%
As with most indicas, the buds of the Blueberry strain are small and compact, with forest green leaves sprinkled throughout with shades of purple, yellow, and red. The buds are thickly coated in trichomes, but they're transparent and harder to see. But, you can sure feel how sticky the buds are! You'll need a grinder to break these buds up.
A highly potent indica, Blueberry is one of those strains you take breaks with. It's more of a "one hitter" strain, even for the most seasoned smokers. Take that hit, and you'll immediately feel your entire body get heavy. If you have to move around a lot, it's a disorienting high. But, if you're seshing at home and in a relaxed situation, the heavy high is immensely calming, providing you with a sense of relief and blissful euphoria after a particularly rough day or week. These cerebral effects are accompanied by some serious couchlock and sedation, making the Blueberry strain one that's best enjoyed in the evening or on a day when you don't have much that you have to do.
Mimosa
Mimosas are super simple, bubbly cocktails made from champagne and orange juice. They're light, they're fizzy, and they're easy to sip. Much like this beloved summer brunch beverage, the Mimosa strain is one of the best fruity strains for starting your day off on a sweet note.
A cross between Purple Punch x Clementine, the Mimosa strain from Blue Roots Cannabis is the perfect way to indulge yourself this summer. This hybrid has a THC range of 20.75-24.75% THC and 1-3% CBD, so you know it's a potent one. The nugs of the Mimosa strain are deep olive in color, dense, and covered in stunningly bright, white trichomes. As the name suggests, the flavors and aromas of the Mimosa strain are just like the beverage it's named after, with both sweet and tangy notes blending with the fruity flavors of oranges for a delicious pick-me-up!
Just like the Mimosa drink gets you pepped up and in a giggly mood for the morning, the Mimosa strain brings on instant euphoric and energetic effects. Smoke a bowl of this in the morning, and you'll be focused and engaged until the afternoon. Beware, though: Smoke too much, and the body effects quickly go from energetic to heavy and sedating.
As amazing as the Mimosa strain will have you feeling, it's definitely one you want to save for the daytime. Otherwise, you'll be up all night. But, you won't have a hangover!
These Fruity Strains are Always in Season
Celebrate the season's fruitiest strains — think blackberries, lemons, oranges, etc — with these delicious flower selections. You can share them with friends during a sesh, or keep them all to yourself. (Then enjoy some sweet edibles with a summer picnic for stoners.)
---
Disclaimer: Marijuana has intoxicating effects and may be habit-forming. Smoking is hazardous to your health. There may be health risks associated with consumption of Marijuana. Marijuana, in any form, should not be used by individuals that are pregnant or breastfeeding. Marijuana is intended for use only by adults 21 and older. Keep out of reach of children. Marijuana can impair concentration, coordination, and judgment. Do not operate a vehicle or machinery under the influence of this drug. This product may be unlawful outside of Washington State