Stoner dreams are images and stories our stoner mind makes up while we sleep, helping the brain to process and make sense of information it has received. These dreams can be vivid, or they can be fuzzy. They can make you feel a whole range of emotions, and they may seem either fantastical or completely realistic. Experts state the average person dreams four to six times per night, usually during the REM (rapid eye movement) phase of the sleep cycle. 
Recording and analyzing dreams has become a popular form of both entertainment and self-exploration. Do dreams really have meanings? Can you learn things about yourself by interpreting your dreams?
While many people say no, there are a wide variety of dream dictionaries out there that help ascribe meaning to common dream themes and symbols. Some of them are for fun, and some of them are serious. This blog post is meant for entertainment purposes only and is not to be taken too seriously.
Let's take a look at some of the most common stoner dreams and what they mean.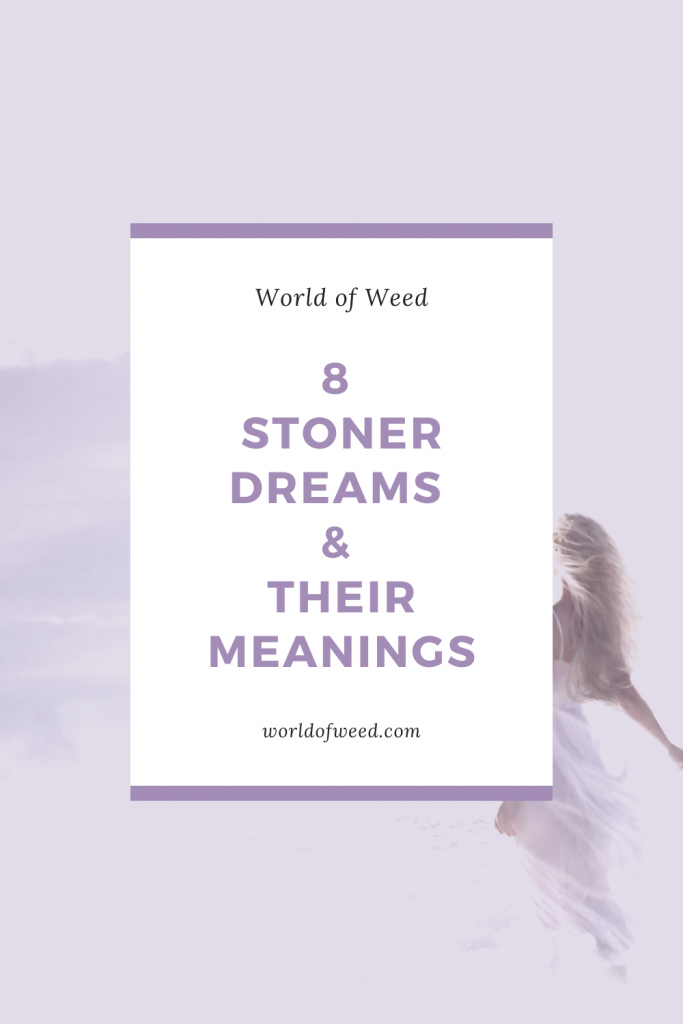 8 Common Stoner Dreams and Their Meanings
The Blunt Keeps Crumbling
The most common stoner dreams relating to your blunt crumbling include having it break into pieces in your hands, fall apart with one light tap, or your blunt falls out of your mouth. These dreams may be reflecting your anxieties about your rolling abilities and how others perceive you during a smoke sesh. Generally, these dreams steam from a fear of embarrassment or rejection at not having rolled a good enough blunt.
Dreaming that the blunt keeps falling out your mouth can also correlate to smoke seshes. When you can't hold the blunt, you will find it much harder to smoke. Therefore, your dream may be highlighting some difficulty in attaining weed or trouble doing smoke tricks. You may be lacking confidence during a sesh.
You Fall Off the Couch
Dreaming that you are falling off the couch represents feelings of losing control, and usually happens after smoking some super dank flower. You may feel insecure or unable to tackle an issue properly. Something in your life may feel like it is getting out of hand — such as not having enough weed. You may be experiencing a major struggle or dealing with a big problem. A fear of losing your weed or not being able to smoke enough may be coming through in this dream.
Naked at a Sesh
Have you ever had one of those horrendously awkward dreams where you show up to a sesh sans clothing? Don't stress. Dreaming about being naked is very common. It suggests you may feel like an imposter or that you are afraid of showing your shortcomings, like not being able to take big bong rips.
Someone is Chasing You, Trying to Steal Your Weed
Stoner dreams about being chased by someone trying to steal your weed can be pretty nightmarish. They are also very common. Such dreams often mean you're trying to avoid something in your day-to-day life, and wanting to escape from your fear of losing weed. This usually indicates you have a problem with someone smoking your weed, but not pitching in. Or that you worry about someone close to you stealing weed from you.
If your pursuer is an unknown figure, it may represent a past weed trauma. This could be something like dropping a full grinder, chazzing a new banger, or breaking a favorite bong.
Eating Lots of Food
Dreams about eating lots of food often represents the fact that you got very stoned and now have the munchies. It's time to wake up and eat something.
Your Torch Dies Before You Can Take a Dab
Death is a very common dream subject, and one that can be very upsetting. Stoners often dream about the death of a dab torch, usually with it dying right before the nail was hot enough to dab from. This often suggests anxiety about change or a fear of the unknown – such as what it feels like to take a gram dab.
Your Favorite Dispensary Moves
This is easily one of the most distressing stoner dreams a person can have. You've looked at the online menu, made your selections, and have headed over to your favorite dispensary to pick up the goods. All is well except, when you get there, the building is completely empty. Your favorite dispensary has moved, but to where? The building is abandoned.
To dream of an abandoned dispensary denotes beliefs, lifestyle choices, or relationships / friendships that have come and gone. It may also represent abandoned ideas or plans you had that you let go. These dreams are about choices you have purposely given up.
Your Partner Smokes Your Weed with Someone Else
Dreaming that your romantic partner is smoking your weed with someone else can be quite upsetting. In some cases, people may even start to wonder if the dream has any truth to it. Does dreaming that your partner is smoking your weed with someone else mean that it may happen? Or that it already has?
While this is often a reflection of a personal fear, it is very unlikely that such dreams mean your partner is smoking with another person. Usually, if you have such dreams, one of you is not getting what you need from the relationship. The solution is often to smoke together and laugh about the dream.
Final Thoughts on Having These Common Stoner Dreams
Dreams can say a lot about you, your personality, your hopes and dreams, your fears, and even your health. But, dream analysis can be tricky. During the day, you think about perfectly normal things, like where to buy the best weed in Tacoma. At night, however, your thoughts are filled with falling blunts, your torch dying, and even being chased by a weed thief. These fantastical dream themes can reveal a lot about your life. But, don't take this post too seriously — it is just for fun.
Have you had any of these common stoner dreams? Share them with us down in the comments! 
---
Disclaimer: Marijuana has intoxicating effects and may be habit-forming. Smoking is hazardous to your health. There may be health risks associated with consumption of Marijuana. Marijuana, in any form, should not be used by individuals that are pregnant or breastfeeding. Marijuana is intended for use only by adults 21 and older. Keep out of reach of children. Marijuana can impair concentration, coordination, and judgment. Do not operate a vehicle or machinery under the influence of this drug. This product may be unlawful outside of Washington State.